Video and audio material cannot be hosted on the online surveys website. However, you can embed media that is hosted on an external service, such as YouTube or Vimeo, into your survey.
Videos and other media can be embedded into a note or the 'More info' section in a question.
Videos and other media cannot be embedded into question text.
Please ensure that you have obtained copyright clearance to include the relevant video, audio or other media content in your survey.  Any queries from third parties (or arising from our own audits) regarding copyright infringement will be passed on to the institution holding the online surveys account. We reserve the right to temporarily disable a survey and/or user account while any copyright infringement claim is investigated. If it is subsequently discovered that the survey was using content without permission then we will consider this a breach of your online surveys licence and reserve the right to close your account
Embedding media into your survey
In the

Survey builder:
Add a new note or question (or click the Edit icon next to an existing one).
In the note or 'More info' text box, click on the  Embed Media from External Sites icon. This will open the Embed Media Content window.
Paste the URL of your hosted video, audio or other media into the URL box.
If applicable, choose the Resize Type from the drop-down menu.  Please be aware that resizing an embedded video may cause it to display incorrectly.
If applicable, use the Align section to place your media to the left, right or in the centre of your text box.
Click OK. Your media will now appear inside your text box.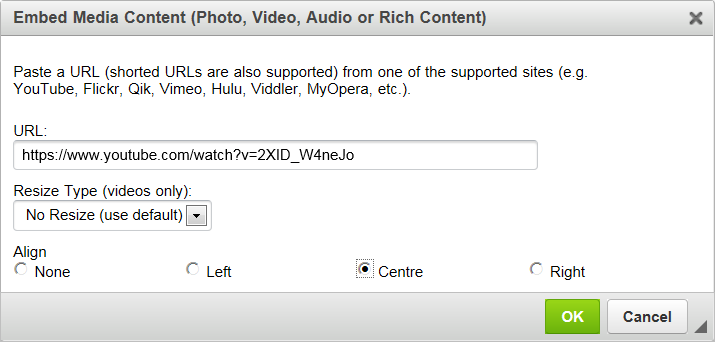 If your embedded video doesn't appear
It might be necessary to follow a different process for some video websites. If you are unable to view the video in your survey by following the above instructions, please follow these steps:
 On the webiste where your video is hosted, choose to 'share' the video and copy the embed code your are presented with (this will start with an <iframe> tag).
Add a new note or question (or click the Edit icon next to an existing one).
In the editor, click the Source code button.
Paste your embed code and click OK.
Save or add your question or note.